In today's fast-paced and competitive marketplace, life insurance agencies need to stay ahead of the game. Embracing technology, such as insurance CRM software, is a powerful way to achieve this. By adopting the right tools and platforms, agencies can streamline operations, increase productivity, and enhance customer satisfaction.
This guide will explore how life insurance software can empower agencies to achieve their goals, whether they are startups or well-established.
Problems with Traditional Insurance Experience
The insurance industry has been slow to adopt technology, leaving many agencies struggling with outdated systems. This results in inefficiencies reduced productivity, and poor customer experiences.
Legacy and Custom-Built Systems
Legacy software is outdated and incompatible with modern technologies, leading to high maintenance costs. A study found that companies spend 40% more on maintaining legacy software compared to modern alternatives.[1] Life insurance agencies must transition to modern software solutions to avoid financial burdens and inefficiencies.
Not Built for Insurance
General software designed for various industries doesn't meet the specific needs of the insurance industry. Lack of essential features like quoting, illustrations, commissions, and compliance measures leads to inefficiencies and reduced productivity. Agencies must rely on specialized software solutions that cater to their unique requirements.
Limited Functionality
Using single-purpose software tools causes inefficiencies and decreased productivity. Agents waste time switching between different programs, disrupting their workflow. Comprehensive, all-in-one software solutions consolidate functionalities into a single platform, improving efficiency and empowering agents to focus on valuable tasks.
Fragmented & Disconnected
Frequent fragmentation and disconnection among different technology components hinder productivity, customer service, and revenue. Disorganized data leads to productivity loss, poor customer service, and communication breakdowns. A unified platform ensures accurate and accessible data, boosting productivity and customer satisfaction.
How Technology Bolsters Agency Growth
Technology has a significant impact on the growth of life insurance agencies. Agents using digital tools have higher success rates compared to those relying on traditional methods. They are more likely to close sales, provide better customer service, and experience increased revenue.
Increase Sales Productivity
Automating routine tasks like lead generation and document processing frees up agents' time for important activities such as building client relationships and closing deals. Digital tools like CRM systems and marketing platforms streamline lead tracking, appointment management, and client communication, boosting sales productivity and expediting the sales cycle.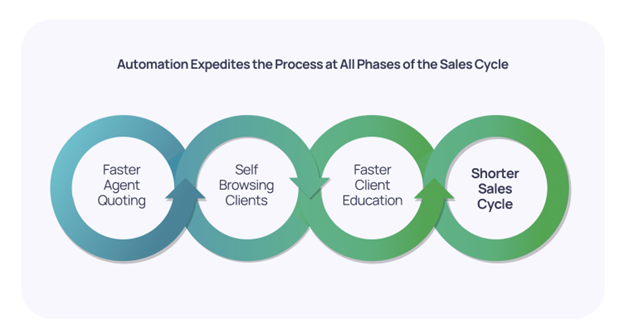 Increase Process Efficiency
Manual processes are time-consuming and prone to errors. Leading software solutions offer automation features like underwriting, e-signatures, and document management, reducing turnaround times and minimizing errors. Automation improves data accuracy, resulting in reliable policies and improved customer satisfaction. Streamlined processes save time and enhance overall efficiency.
Improve Client Service
The best technology significantly improves client service by providing user-friendly online platforms. Clients can easily browse and compare policies, make informed decisions, and complete applications quickly. Leading insurance websites offer intuitive interfaces, enhancing client satisfaction and trust in the buying process.
Manage Teams Effectively
Technology enables effective management of agent teams by providing insights into sales performance, prospect tracking, and lead allocation. Managers can provide valuable feedback and coaching through call monitoring and review. The best solutions offer a comprehensive view of team performance, helping managers identify areas for improvement and make data-driven decisions.
Improve Agent Recruiting and Retention
Supporting agents with training, mentorship, and digital tools is essential for recruiting and retaining top talent. By investing in agent success, agencies can attract and keep the best agents. Transparent commission structures ensure agents receive full compensation. Robust CRM systems help manage the agent candidate pipeline efficiently.
Measure Success
Technology empowers agencies to measure success through analytics and reporting tools. Tracking key performance indicators, sales trends, and agent productivity helps agencies make informed decisions, optimize processes, and identify areas for improvement.
Conclusion
Technology is crucial for life insurance agencies aiming to thrive in a competitive market. By leveraging advanced digital tools, agencies can increase sales productivity, streamline processes, improve client service, and retain top talent. It's important to invest in the right technology to overcome traditional challenges and elevate the business.
Key Takeaways
Outdated software, single-purpose tools, and disconnected systems hinder productivity and client service.

Modern and integrated technology drives growth by increasing sales productivity, process efficiency, and agent retention.

The best life insurance platforms improve client service through user-friendly websites and streamlined application processes.

Crafting a strong recruitment value proposition is crucial for attracting and retaining top talent.

Utilizing advanced analytics and reporting tools empowers agencies to measure success and make informed decisions.
Grow Your Agency with iLife: The Ultimate Insurance CRM
iLife, the all-in-one insurance CRM, enhances agent productivity, improves process efficiency, increases agent retention, and enables effective team management.
Features:
Touchless CRM: Automatically obtain client data, e-health records, and signatures; monitor and evaluate sales activities for every client.

e-App: Streamline digital application processing and enable seamless communication with clients and carriers.

Quoting Tool: Empower clients to independently browse, compare, and purchase policies online; includes customizable carrier options and API carrier appointments.

Marketing Hub: Attract prospects through targeted email, text, and social media campaigns.

Website Builder: Create "code free" insurance websites with custom subdomains, video support, and live chat; monitor prospect visits and form submissions.

Premade Content: Expedite agency marketing using pre-designed content to engage and educate prospects and clients effectively.

In-Platform Communications: Interact with clients via calls, chats, emails, and texts directly within the platform; review recorded calls and transcriptions for quality assurance.

Electronic Health Records: Encrypted and HIPAA-compliant records ensure the secure and efficient sharing of clients' confidential information.
Ready to take your insurance agency to the next level?
Discover the power of agent's favorite insurance CRM software with a virtual product tour. Experience firsthand how our comprehensive solution can enhance agent productivity, improve process efficiency, increase agent retention, and revolutionize your business operations.
Take a virtual product tour to see iLife in action!
[1] Gartner 2022 State of the IT Report
Learn more about iLife Technologies and how they can help grow your business by watching their recent webinar, "Drive Business Growth by Embracing the Digital Age," on-demand in the BPC Webinar Archives.